Post Supported Railings
DOUBLEPLAY glass railings come in 2 basic designs, post supported or glass fin supported. The post supported system utilizes the same custom top extrusion as in our moveable wall system. This creates a flat top 4-9/16" deep that protects the top edge of the glass. The vertical supports are 1-3/4" x 4" rectangular tubular extrusions and come standard in our signature powder coated white gloss finish. Custom colors are available.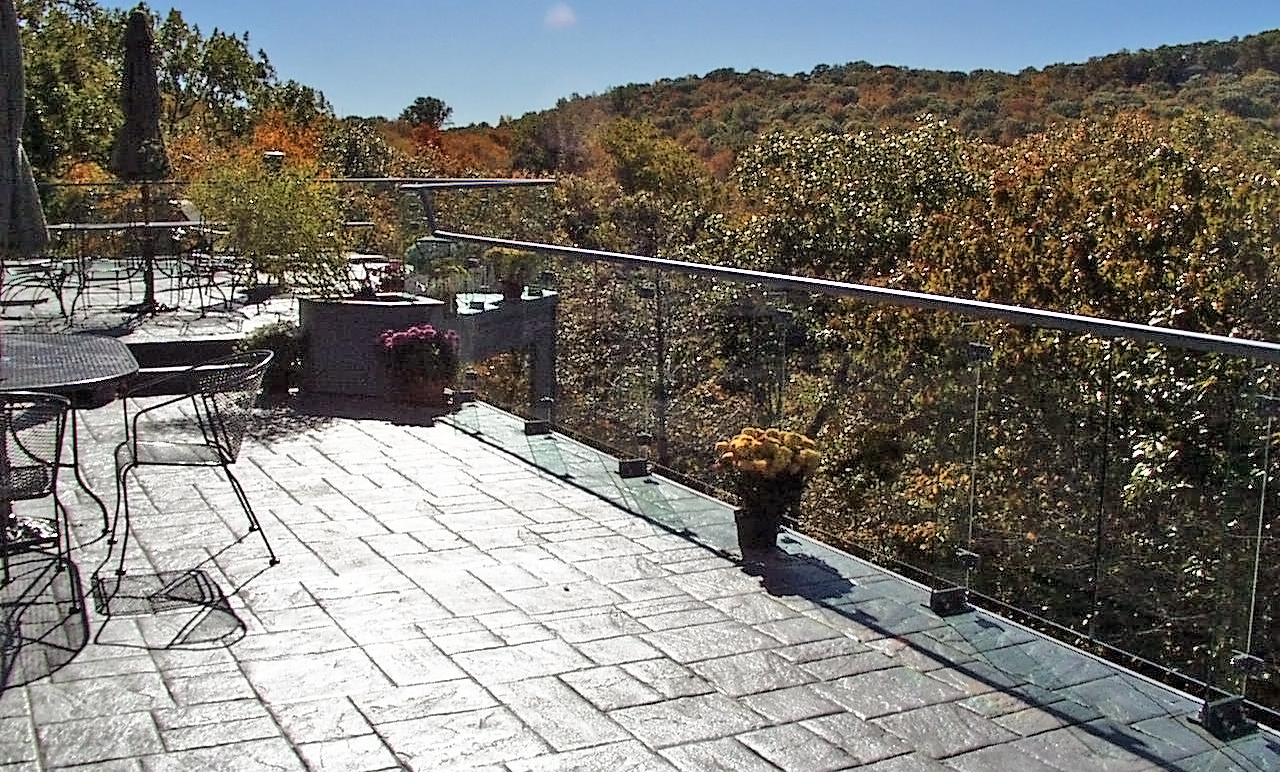 Fin Supported Railings
Our fin supported railing system creates an unobstructed view by eliminating the need for vertical posts. The 6" clear glass fins are transparent from every angle, so no matter your position, you can see through the railing. The fin support bases are made from ¼" thick aluminum and can be powder coated in any color. Optional to rail caps are available in a variety of shapes and sizes. For exterior installations stainless steel anchors and fasteners are used.

Privacy Glass
Custom ceramic frit can be applied to the glass panels to provide privacy. In many installations this is desired to inhibit the view from your neighbors, without sacrificing the clean look of your railing system.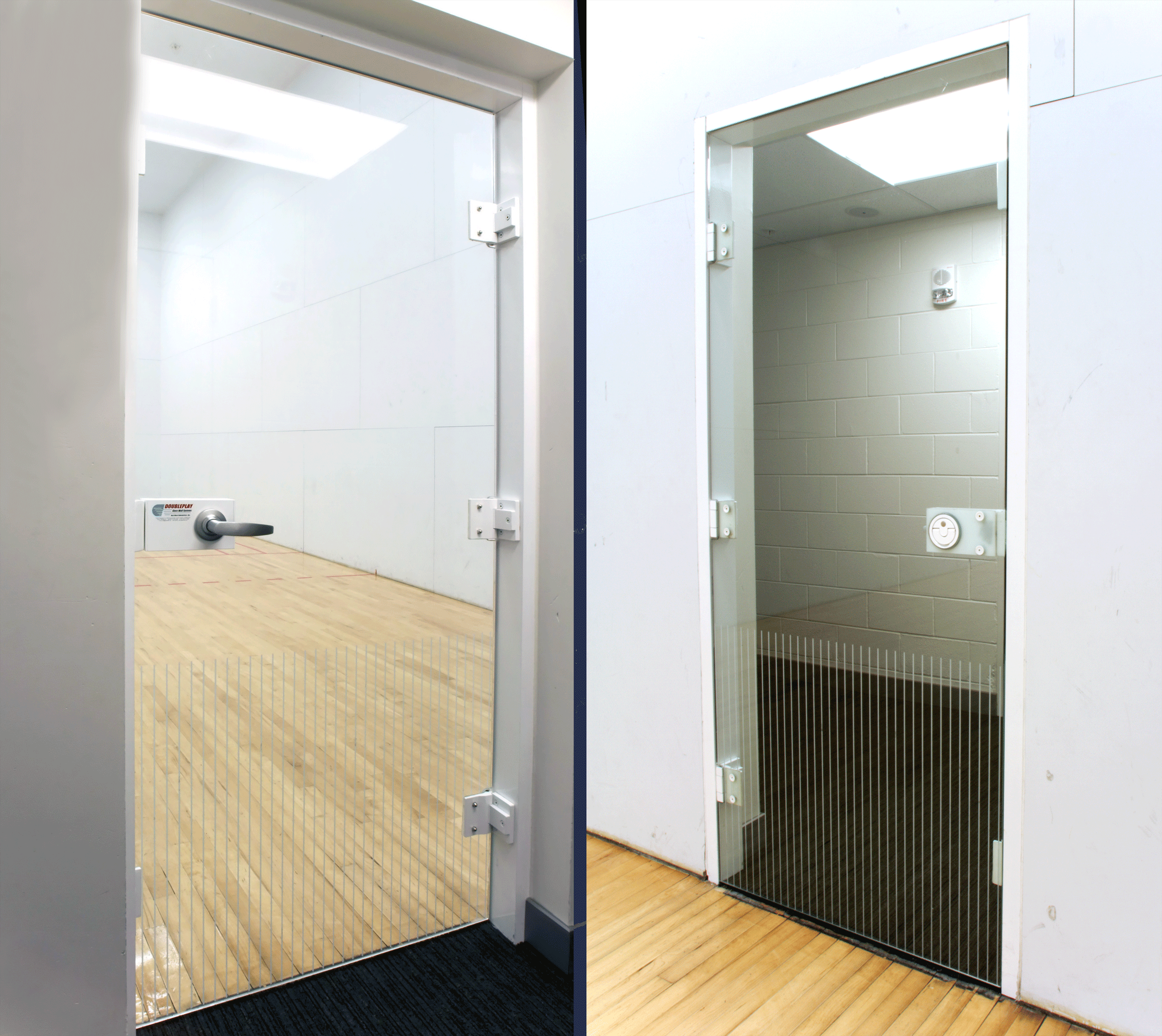 Court Doors
The DOUBLEPLAY court door comes pre-hung in an aluminum rectangular tubular frame. The frame extrusions are 1-3/4" x 4". Our standard doors require a rough opening of 39-3/4" wide x 85-7/8" high. This creates an ADA compliant inside frame opening of 36" wide x 84" high. All hardware components come powder-coated brilliant white gloss. Custom sizes and colors are available upon request.

Entrance Systems
The DOUBLEPLAY entrance system incorporates all of the features and benefits of our structural racquetball and squash court systems while adding the flexibility of bi-directional doors with concealed automatic closers. These walls are perfect for enclosing a climbing wall, gym, or sports pavilion where continuous entry in and out of the room are required. This system meets the strenuous impact load requirements (except at the door location), making it an ideal choice for basketball, volleyball or badminton where occasional body impact occurs.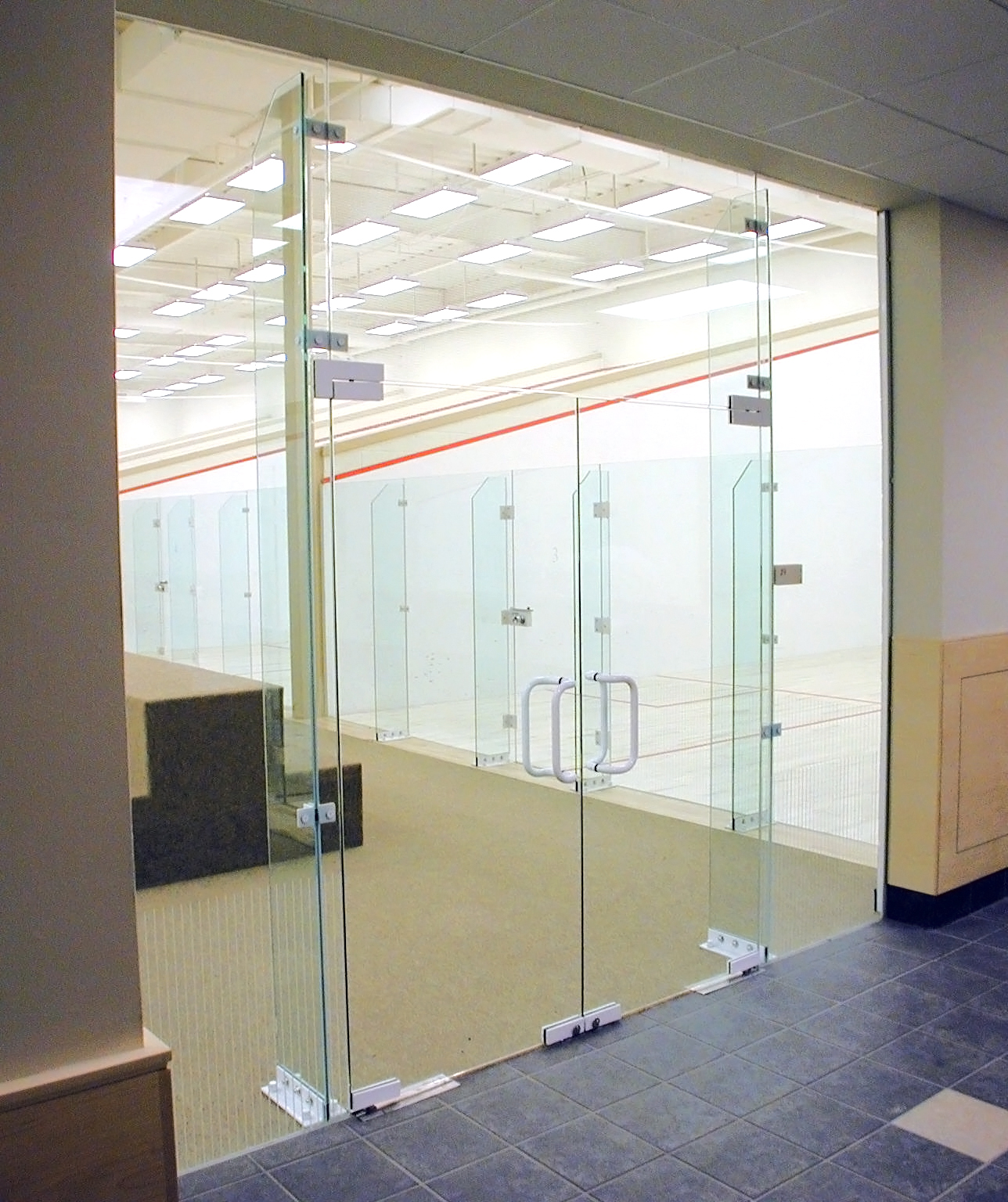 Entrance Doors Cont.
DOUBLEPLAY entrance systems utilize top and bottom patch fittings allowing doors to swing both directions. Push bars and/or handles are installed on both sides of the door and the standard finish is brushed stainless. The patch covers can also be powder-coated to match the hardware components on the rest of the wall which are typically white gloss.

Custom Glass Projects
From waterfalls to windbreaks, our engineering team can design projects to suit your needs. We specialize in frameless minimalist concepts which maximizes viewing through the glass from all angles.