Structural Fin Walls
DOUBLEPLAY structural walls are strong, safe and aesthetically pleasing. Our superior choice of materials, patented engineered designs and high gloss finish makes DOUBLEPLAY wall the premier choice for squash, racquetball and handball courts.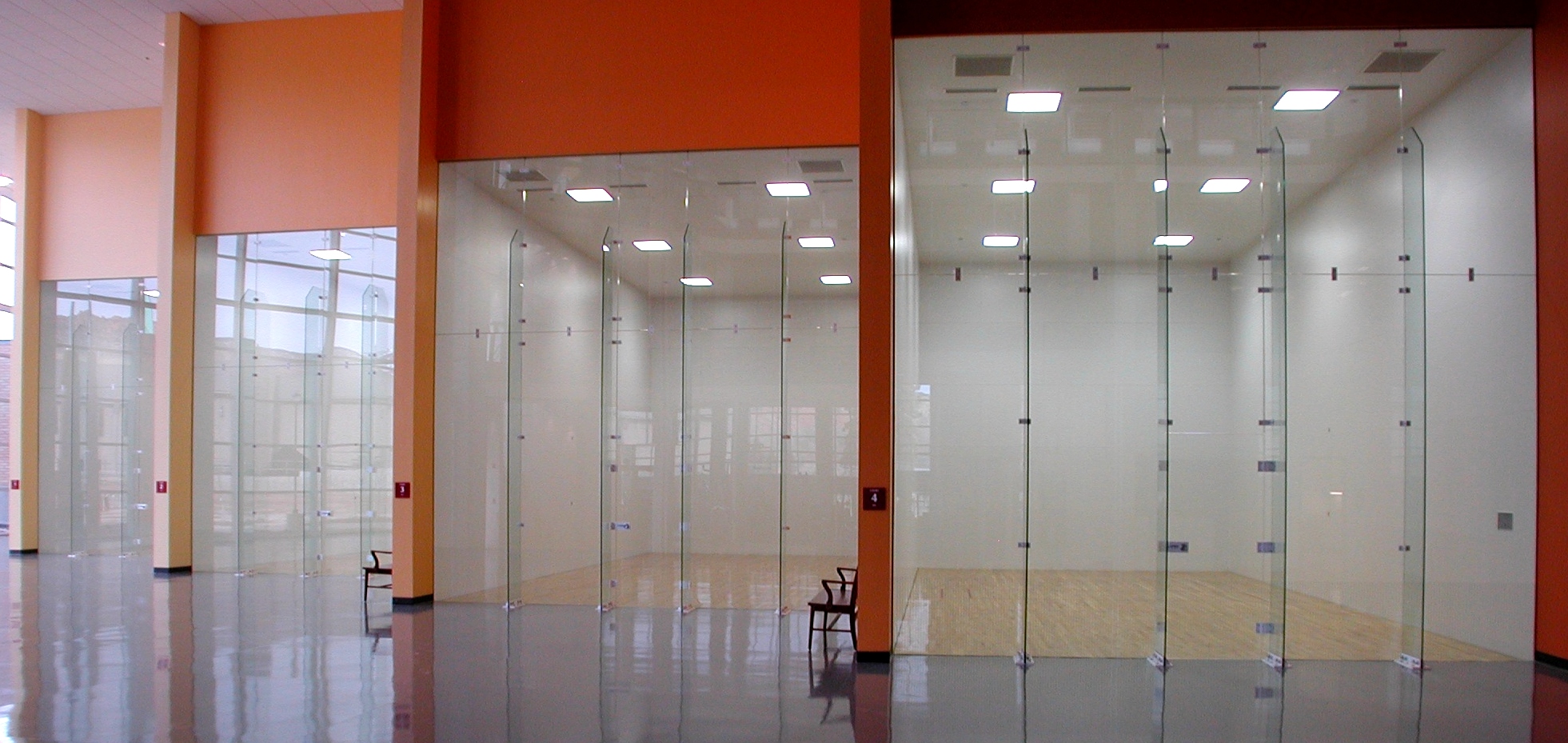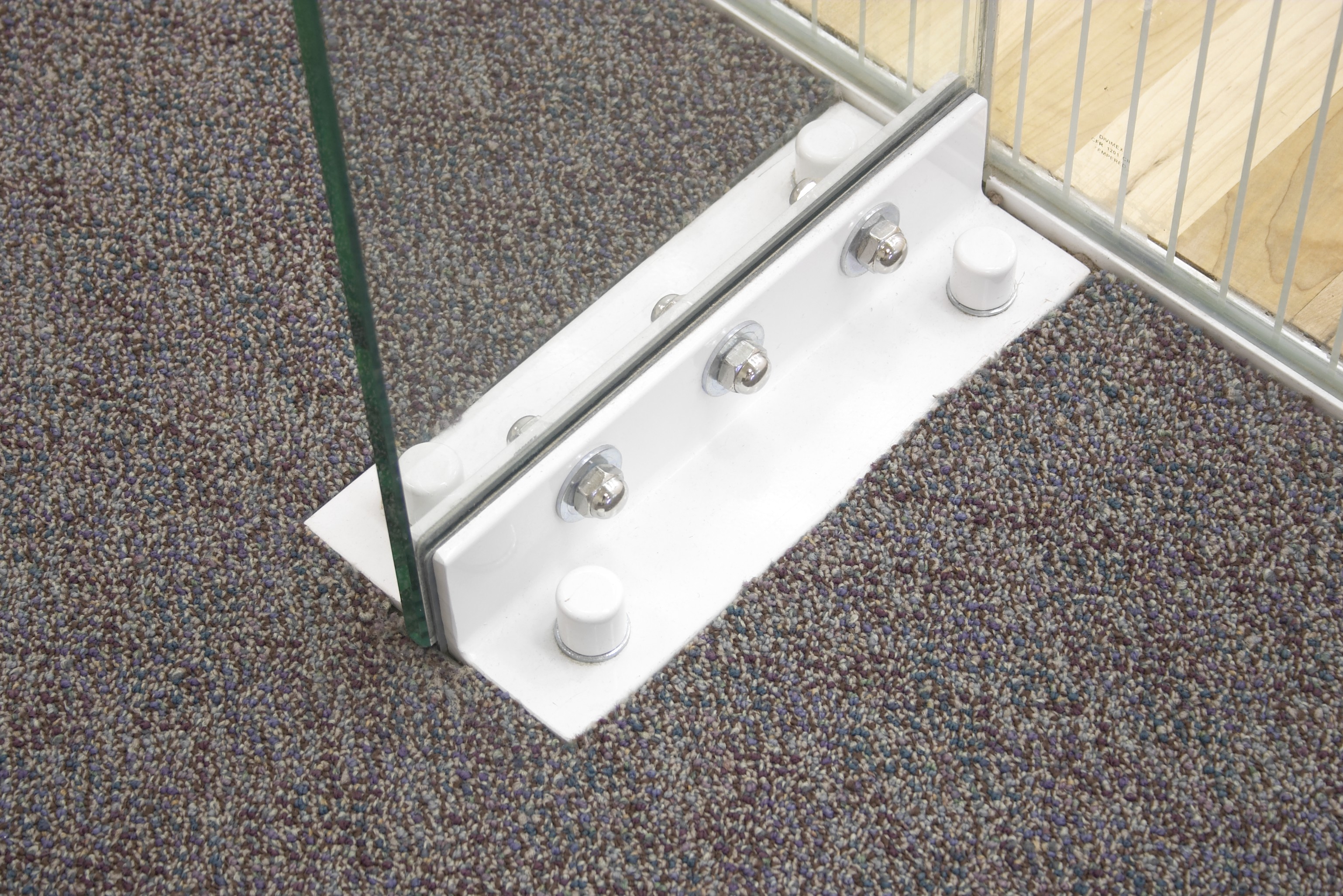 Extruded Aluminum Hardware
All hardware components are manufactured from aluminum extrusions and the insulated from the glass with clear polypropylene gaskets. Aluminum is infinitely superior that plastic nylon used by other manufactures.
The DOUBLEPLAY glass hardware is unique in that the holes through which the bolts pass are threaded. This feature is significant to both the strength of the system and to the installation process. Other systems rely solely on the bolt and nut to hold the glass in place. The DOUBLEPLAY system uses the strength of the entire component to secure the glass panels, doors and fins to its supporting hardware.
Patented Hinge Design
Our patented hinge design attaches to door, stabilizing fin & adjacent side panel, thereby distributing impact forces from the inside of the court to the concrete floor below. Another feature of our patented system is the "wrap-around" feature. By passing the hinge flange behind the stabilizing fin, the weight of the door is supported, not by nuts and bolts, but by the entire surface of the flange. This completely eliminates the possibility of door sagging. The unique pivot location of the DOUBLEPLAY hinge eliminates the gap created between the edge of the door and the edge of the adjacent sidelight panel. When the door opens the edge remains close to the edge of the panel and no portion of the door swings inward towards the hallway. In addition to a significant safety benefit, there will never be interference with floor coverings on the court exterior.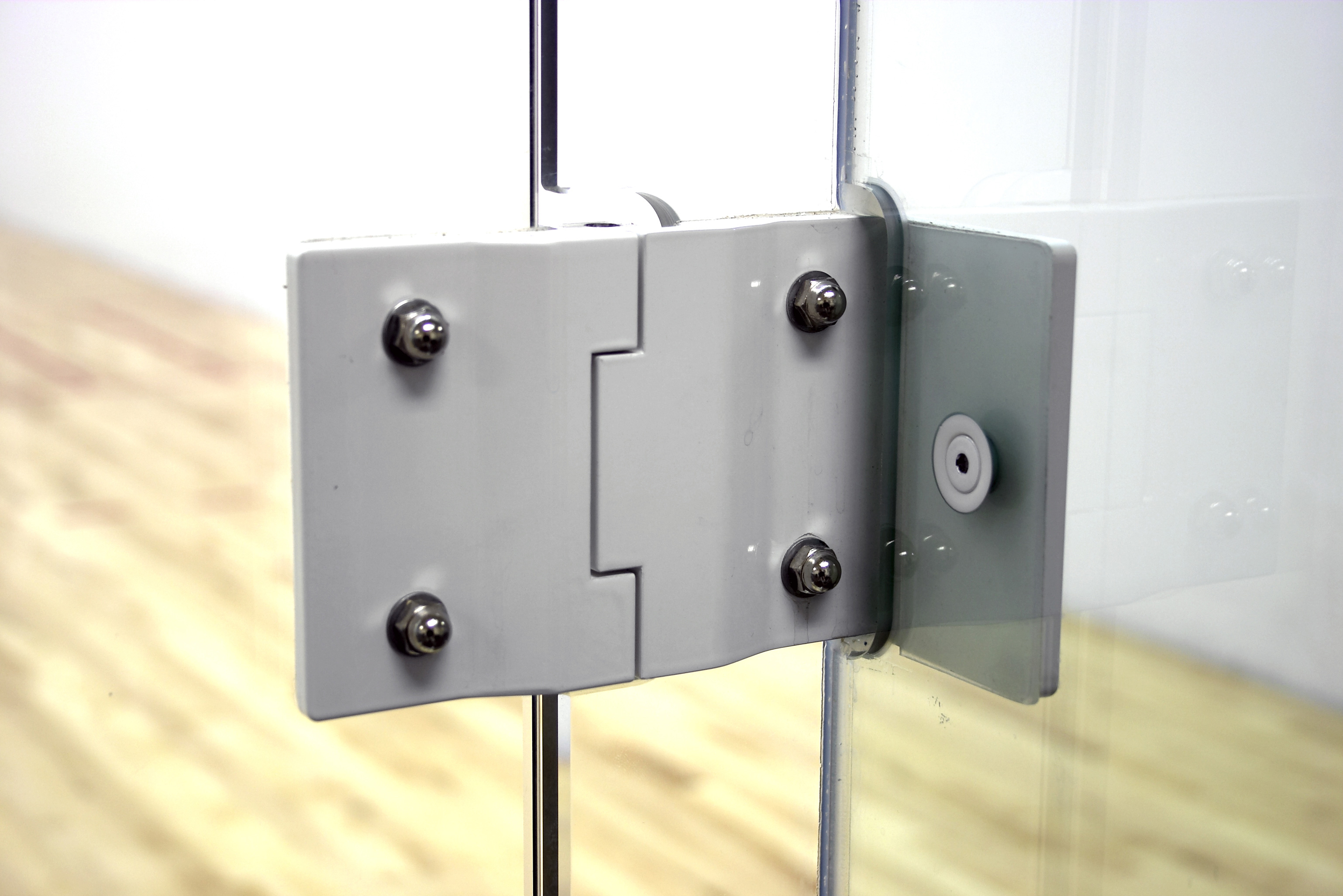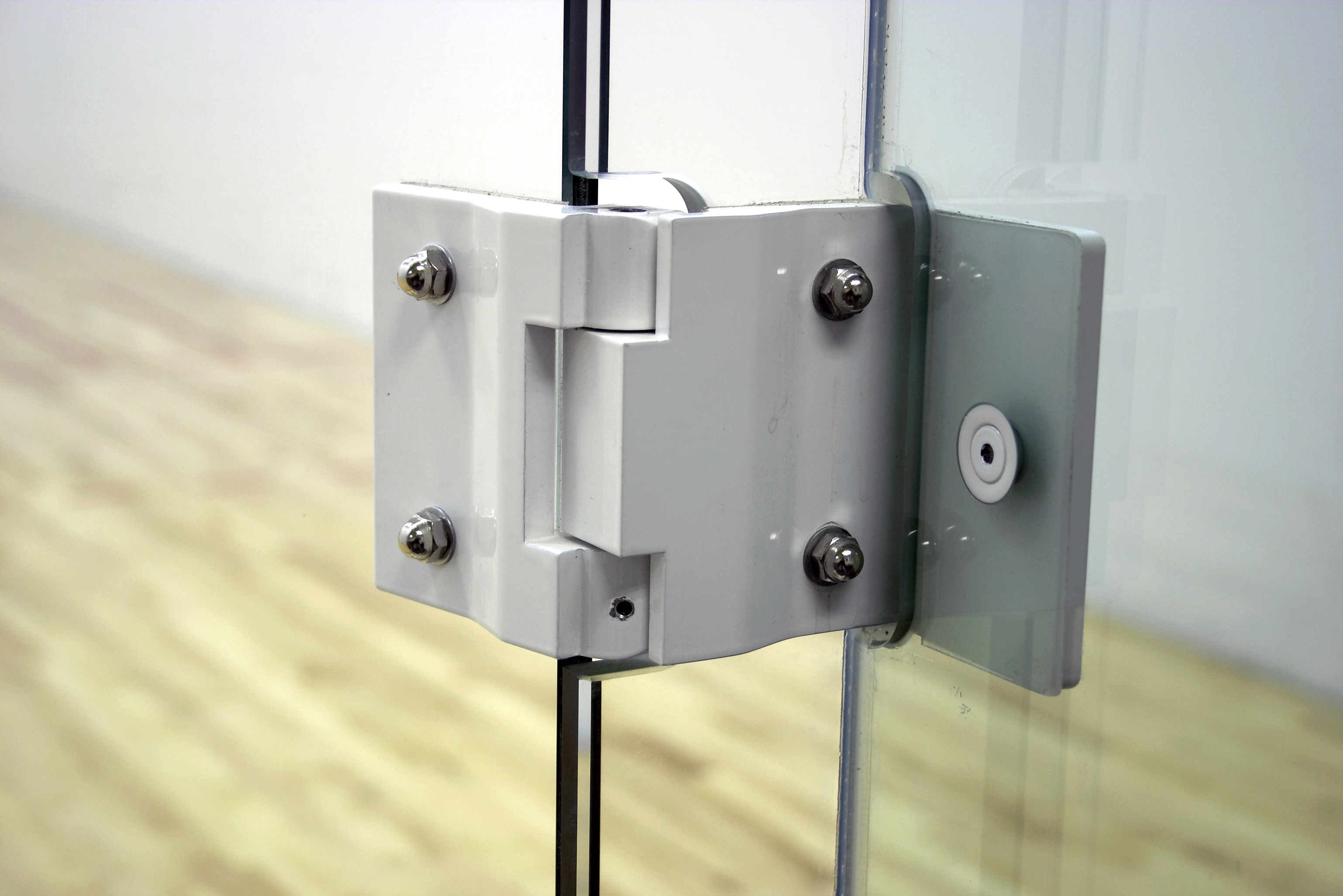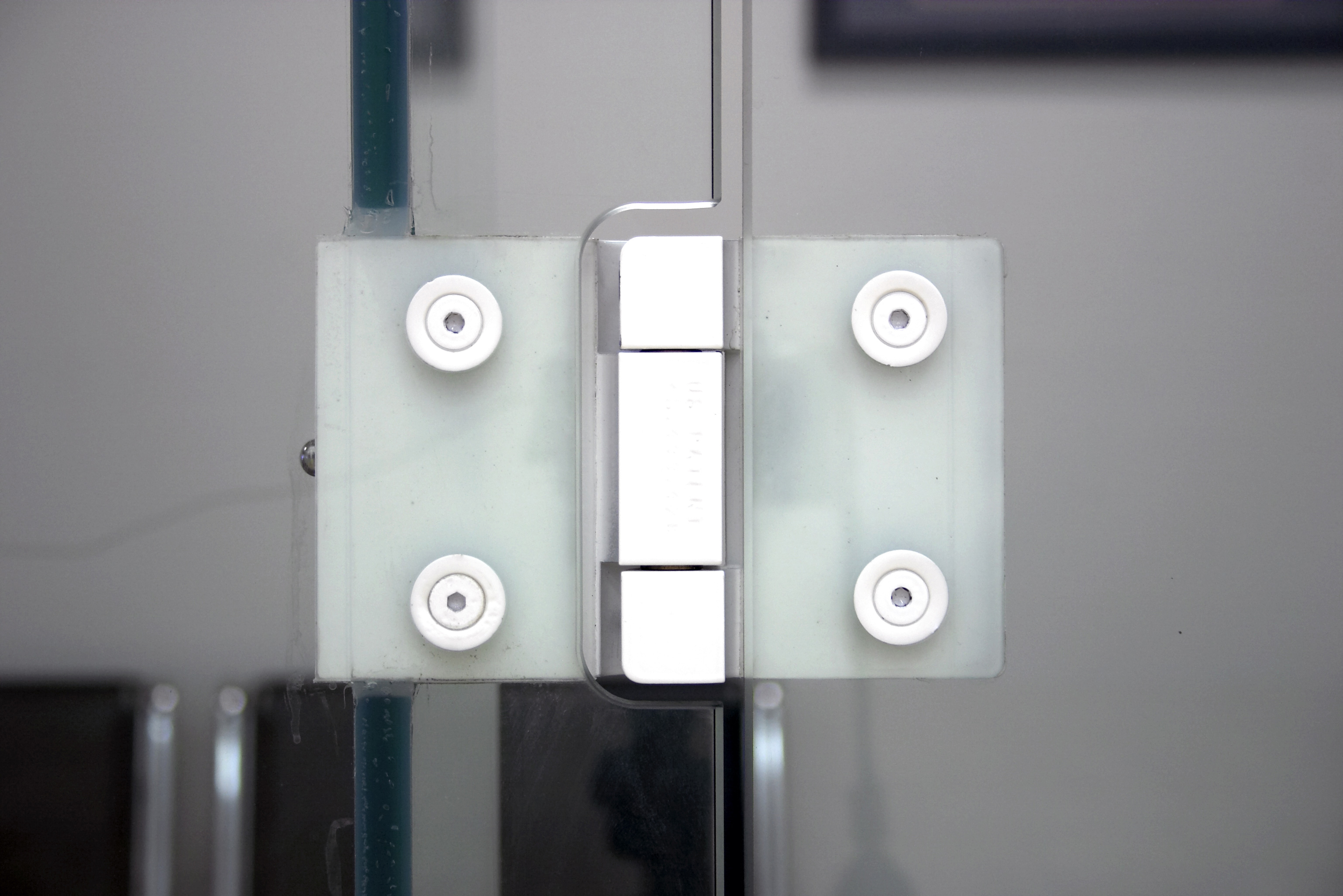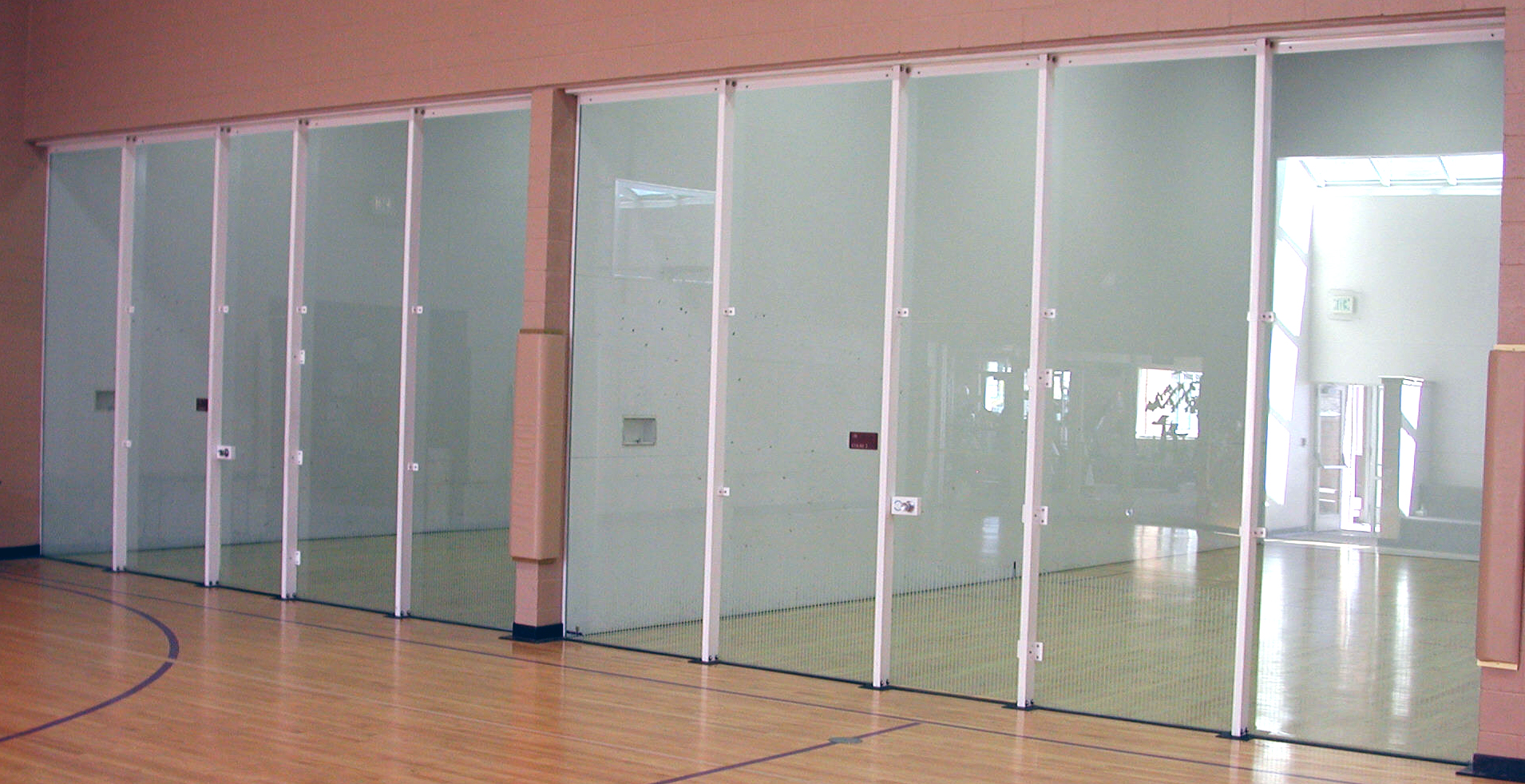 Post Walls
The vertical support posts on DOUBLEPLAY post wall systems are anchored to the floor and header using a special block, which resides inside the post. The block is first anchored to the floor and header, then the post is slid in place over the block.
Concealed Post Anchor
The block is completely concealed from view. Other systems use external angle irons that straddle the post and are anchored to the floor and header on opposite sides creating a bulkier appearance. This feature helps in creating the clean and streamlined look typical of all DOUBLEPLAY glass wall designs.
Our posts are powder-coated brilliant white to match all of the other hardware components. Other manufactures supply only clear anodized milll finish posts.